Intended for Healthcare Professionals
Exodus Revision
Hip System for
Femoral Stem
Removal
The Exodus Revision Hip System facilitates stem bone interface disruption that is significantly improved over traditional techniques and is designed for minimal bone loss with minimal effort and minimal damage to the proximal femur, compared to an extended trochanteric osteotomy.
Philosophies
Single-use 
Stem contouring design
Three Pre-Sterilized, Single-use Blades
Single-use ensures that the blades are sharp and free of damage.
Reusable Exodus Handle
Designed with an oversized strike-plate to provide protection from the mallet and enable impaction and extraction without having to change instruments.
Stem Contouring Medial Blade
Designed with a slot that allows the device to work around the neck geometry and access the bone interface at the medial calcar. The gouge shape is designed to contour the implant and the proximal to distal radius helps follow along the medial calcar distally.
 
Curved Lateral Blade
Designed with a gouge shape to contour the lateral shoulder of the implant and a radius to help follow the implant and tuck under the greater trochanter.
 
A/P Chisel
The thin A/P chisel is designed to follow along the implant surface with adequate stiffness to reduce the risk of bending
Convenient
The single-use Exodus blades are pre-sterilized for convenience and reduce clinic sterilization costs and processing burdens.
Efficient
The Exodus handle features Hudson Quick-Connect with Rotational Control, providing a quick-connect feature designed to provide rotational control and enable efficiency when changing between blades.
Comfortable During Use
The Exodus handle has a curved strike-plate undersurface that enables a firm grip between the palm and fingertips while back-striking during extraction. The silicone grip on the handle is designed to reduce fatigue while providing grip, ergonomics and comfort during use.
Ready to see what the Exodus System can bring to your O.R?
Complete the fields below and we will contact you.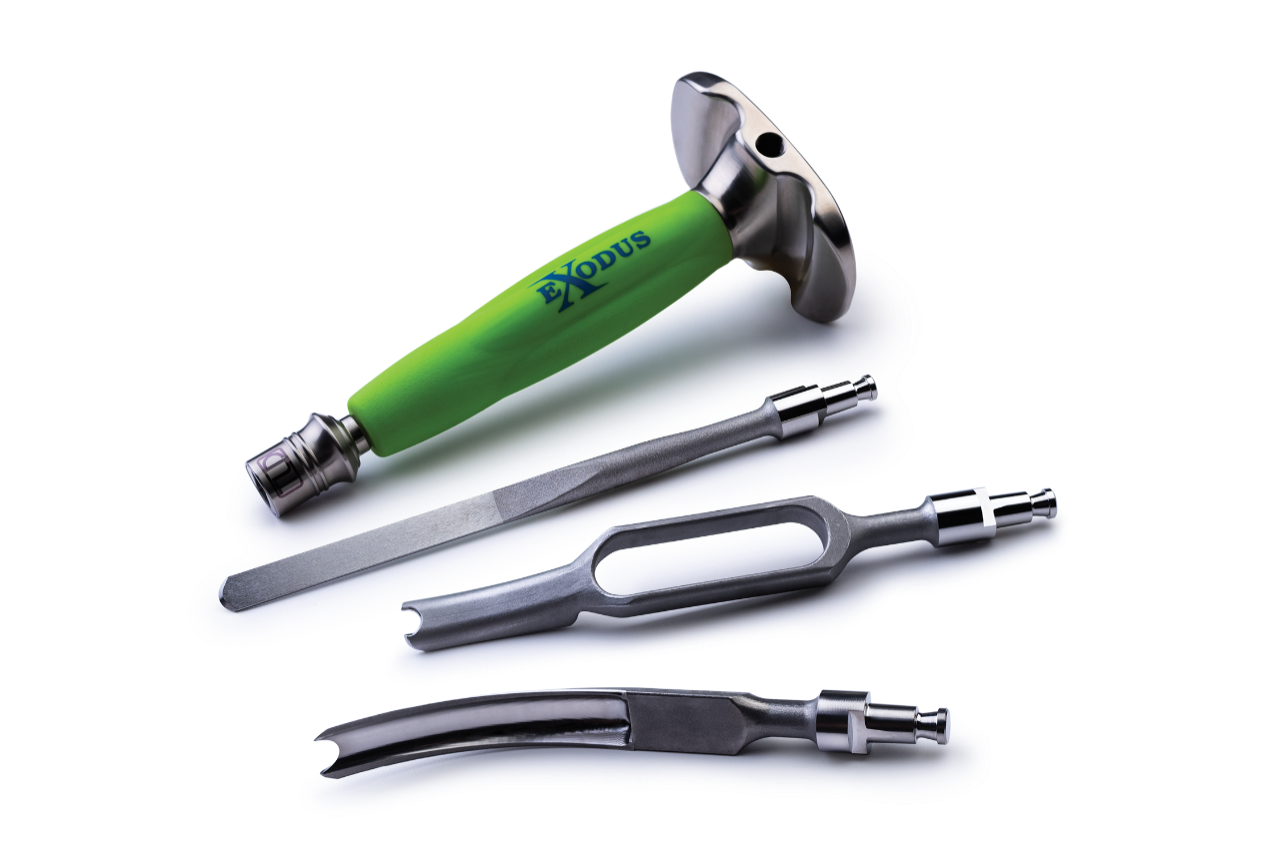 Tightline Development, LLC
5883 Glenridge Dr., Suite 175
Atlanta, GA 30328
USA
Patents and Trademark:
Tailored resources for your patients.
Find videos, articles, and interactive content to guide your patients throughout their surgical journey on ReadyPatient.com, our dedicated patient recovery site.
Exodus is a trademark of Tightline Development.
All content herein is protected by copyright, trademarks and other intellectual property rights, as applicable, owned by or licensed to Zimmer Biomet or its affiliates unless otherwise indicated, and must not be redistributed, duplicated or disclosed, in whole or in part, without the express written consent of Zimmer Biomet.   
This material is intended for health care professionals. Distribution to any other recipient is prohibited. 
For product information, including indications, contraindications, warnings, precautions, potential adverse effects and patient counseling information, see the package insert or contact your local representative; search this website for additional product information. To obtain a copy of the current Instructions for Use (IFU) for full prescribing and risk information, please call 1-800-348-2759, press 4 for 411 Technical Support.