Intended for Healthcare Professionals
Zimmer Biomet ASC Solutions
Results you can measure. A partnership you can trust.
Zimmer Biomet delivers personalized strategy and tailored solutions so you can manage the pain points in your ambulatory surgery center with the goal of driving profitability and minimizing waste.
From financing programs to medical education, we're your trusted partner every step of the way.
Accelero Clinical Consulting Services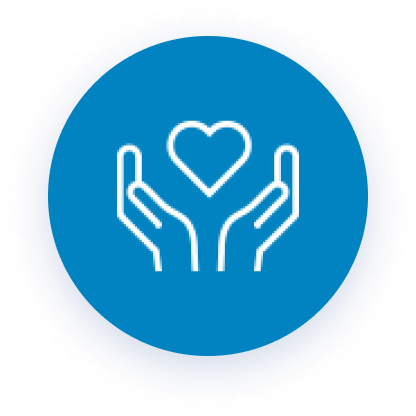 Patient & Care Team Workflow
Our interactive learning environment improves clinical outcomes through personalized experiences including on demand access to educational content at the Zimmer Biomet Institute, live medical education events and the surgeon-to-surgeon visitation program that allows for:
Observing specific surgical techniques
Viewing live surgeries
Discussing best practices of operating in an ASC
Cash Alternative Programs
Personalized Payment Plans
Zimmer Biomet Exclusive Programs
From billboards to online advertising, we offer a comprehensive direct-to-patient marketing program with the goal of driving more patients to your ASC.
From patient support tools to storage and sterilization, we help you coordinate every step in the episode of care.
Intra-Operative Solutions
Whether you're interested in orthopedic implants or new technology to drive more patients to your facility, we offer a full breadth of solutions to meet your needs
Guides surgeons in the precise placement of the components used in total knee replacement surgery. Using X-Atlas 2D x-ray to 3D bone modeling and real-time intraoperative data, ROSA® improves accuracy and alignment.
WalterLorenz® Surgical Assist Arm
A bionic, electromechanical arm that enables steady surgical site optimization. Walter was created in collaboration with surgeons across multiple disciplines to facilitate freedom, focus, and control in the operating room.
Our industry-leading implants, including hip, knee, foot and ankle, and shoulder, let you tailor treatments for each patient in an efficient and cost-effective way.Our implants, surgical instruments, and healthcare technologies help you preserve soft tissue when possible and restore natural anatomy, motion, and feel when total joint reconstruction is needed.
Outfit your ASC with one vendor for surgical capital equipment and disposables. Our offerings include:
Power equipment and saw blades
Tourniquet systems and accessories
Pulsed lavage
Fluid waste management
Endoscopy platform
Personal protective apparel
Zimmer Biomet is excited to combine our comprehensive sports medicine portfolio with an innovative capital equipment option from RELIGN. Featuring an all-in-one device that combines fluid management, ablation, tissue resection, and bone cutting into a single versatile, proprietary bipolar shaver handpiece.
ZEOS, Zimmer Biomet's Endoscopic Optical System, features a true 4k experience throughout the entire optical channel. With 4K ultra high definition you receive four times the resolution and improved color reproduction compared to traditional HD. The system's unique features are designed to create convenience and OR efficiency.
The Omni Suite is an intelligent integrated operating room, removing manual interactions with complex software and replacing it with automation driven by artificial intelligence* (object recognition). Our platform automates the collection of data, providing real-time access to workflow metrics to support data-driven decision making and OR workflow optimization. We are removing unnecessary technology and redundant hardware to create value innovation that brings tangible benefit to our customers.
 Our billing and financing options are customized so you can run a more efficient business and stay focused on what matters your patients'  recoveries.
mymobility® with Apple Watch
Track objective data about patient compliance, status, and progress, so you and your care team can provide timely intervention when needed.
Patients can directly message the care team, streamlining communication, enabling education, and reducing unnecessary visits to the ER.
Take back the time it takes to process multiple invoices for one case.
Any Zimmer Biomet product you use per case can be invoiced on One Bill.
Simplify billing and plan your implant spend.
Our dedicated team of contracting specialists help bring our solutions together based on your needs and preferences.
Comprehensive solutions for all orthopedic needs
Committed contracts to access technology and services
Innovative leasing and financial solutions
Vertical and horizontal contracting
Procedural billing
Our Vice President of ASC Solutions, Rebecca Whitney, partners with Becker's ASC to discuss current challenges ASCs are facing and how Zimmer Biomet is addressing those needs.
Total Hip & Knee Warranty +
The Total Hip & Knee Warranty + program covers any Zimmer Biomet THA or TKA primary implant and allows for customization based on patient needs.
SUBMIT YOUR INFORMATION AND GET CONTACTED  BY A ZIMMER BIOMET REP
This material is intended for healthcare professionals. Distribution to any other recipient is prohibited. Zimmer Biomet does not practice medicine. For indications, contraindications, warnings, precautions, potential adverse effects and patient counselling information, see the package insert or contact your local representative; visit www.zimmerbiomet.com for additional product information. Not all patients are candidates for the use of this product and surgeons should evaluate individually to determine which patients are appropriate for therapy at home.

All names used in the mymobility app examples are fictitious. No identification with actual patients or health care professionals is intended or should be inferred. Apple, Apple Watch, iPhone, HealthKit and Mac are trademarks of Apple, Inc., registered in the U.S. and other countries. The Zimmer Biomet Connected Health mymobility Application. Patients must have compatible hardware and be clinically appropriate for remote care to use mymobility. WalkAI is only available for mymobility patient using an iPhone. ©2022 Zimmer Biomet