Intended for Healthcare Professionals
Arcos®  Modular Femoral Revision System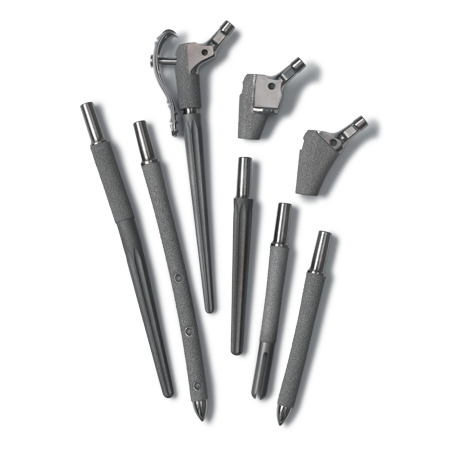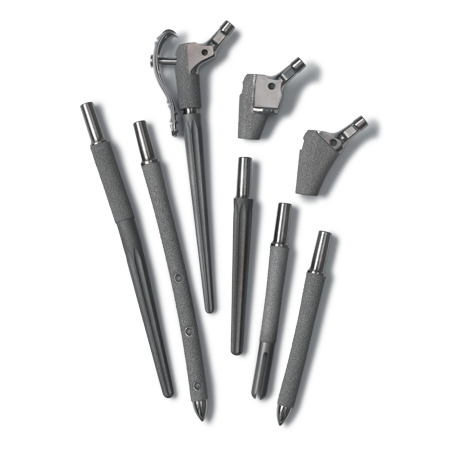 Zimmer Biomet's Arcos Modular Femoral Revision System meets the demands of complex hip revision surgery by offering surgeons and OR staff the ability to customize both the hip implant and its corresponding instruments.
Procedures
Femoral Reconstruction
Revision Hip Arthroplasty
Philosophies
Modular Femoral Revision
Cementless
Three Proximal and Five Distal Geometry Options
Providing surgeons 117 proximal/distal combinations and multiple auxiliary fixation options for various femoral defects. This allows surgeons and OR staff the surgical control, customization options, and reproducibility to efficiently address both patient and practice needs
One Simple, Easy to Use Instrumentation Platform
Standard and High Offset Options
Enables surgeons to reproduce various patient anatomies without lengthening the leg
Consistent Sizing
1 mm increments for increased O.R. efficiency and accurate matching of the patient's femur
Roller-hardened Taper Junction Technology
For greater fatigue strength and three times more strength in cantilever beam testing than non-roller hardened tapers1
STS (Splined Tapered Stem)
Slotted
Bullet-tip
Interlocking
Ream-over
Sterile field
In-femur
Intraoperative Flexibility
With three proximal bodies and five distal stems, which all work together regardless of size, a surgeon is able to address deficiencies in both regions of the femur independent of each other. This compatibility allows for a surgeon to change stems intraoperatively if encountered with something different from their preoperative planning. The availability of standard and high offset proximal body offerings are additional tools that allow the surgeon intraoperative flexibility to address patient needs as they arise.
Bolt and Claw Auxiliary Option
The Arcos Modular Femoral Revision System has the ability to use auxiliary implants to reattach the trochanteric fragment directly to the implant. By reattaching the trochanteric fragment in this fashion, the soft tissue and bony fragment are stabilized and provide an additional level of stability.
Streamlined Instrumentation
Designed with common proximal implant and instrument geometries, the Arcos Platform design allows for intraoperative revision efficiency by reducing the number of instrument cases required to a number comparable to a primary hip surgery.
Clinically Proven PPS® Coating 
Allows for initial scratch-fit stability and biologic fixation.2-9
Flexibility of Titanium 
Allows for stress transfer to preserve cortical density.10
The Arcos Platform - Comprehensive Solutions that Simplify the Complex
Data on file at Biomet. Bench test results not necessarily indicative of clinical performance.
Hozack, W. et al. Primary Cementless Hip Arthroplasty with a Titanium Plasma Sprayed Prosthesis. Clinical Orthopaedics and Related Research. 333: 217-25, 1996.
Head, W. et al. A Titanium Cementless Calcar Replacement Prosthesis in Revision Surgery of the Femur: 13 Year Experience. Journal of Arthroplasty. 16(8): 183-7, 2001.
Head, W. et al. The Proximal Porous Coating Alternative for Primary Arthroplasty. Orthopedics. 22(9): 813-5, 1999.
Keisu, K. et al. Primary Cementless Total Hip Arthroplasty in Octogenarians: Two to Eleven Year Follow-up. Journal of Bone and Joint Surgery. 83: 359, 2001.
McLaughlin, J. et al. Total Hip Arthroplasty in Young Patients. 8 to 13 Year Results Using an Uncemented Stem. Clinical Orthopaedics and Related Research. 373: 152-63, 2000.
Parvizi, J. et al. Prospective Matched-Pair Analysis of Hydroxyapatite-Coated and Uncoated Femoral Stems in Total Hip Arthroplasty. Journal of Bone and Joint Surgery. 83: 783-6, 2004.
McLaughlin, J. et al. Total Hip Arthroplasty with an Uncemented Femoral Component. A Long Term study of the Taperloc Stem. Journal of Arthroplasty. 19(2): 151-6, 2004.
Meding, K. et al. Minimum Ten-Year Follow-up of a Straight-Stemmed, Plasma-Sprayed, Titanium-Alloy, Uncemented Femoral Component in Primary Total Hip Arthroplasty. Journal of Bone and Joint Surgery. 86: 92-7, 2004
Musgrave, D. et al. Effects of Coronally Slotted Femoral Prosthesis on Cortical bone Strain. Journal of Arthroplasty. 12(6): 657-69, 1997.
Biomet Orthopedics
56 East Bell Drive
P.O. Box 587
Warsaw, Indiana 46581 USA
Tailored resources for your patients.
Find videos, articles, and interactive content to guide your patients throughout their surgical journey on ReadyPatient.com, our dedicated patient recovery site.
All content herein is protected by copyright, trademarks and other intellectual property rights, as applicable, owned by or licensed to Zimmer Biomet or its affiliates unless otherwise indicated, and must not be redistributed, duplicated or disclosed, in whole or in part, without the express written consent of Zimmer Biomet.   
This material is intended for health care professionals. Distribution to any other recipient is prohibited. 
For product information, including indications, contraindications, warnings, precautions, potential adverse effects and patient counseling information, see the package insert or contact your local representative; search this website for additional product information. To obtain a copy of the current Instructions for Use (IFU) for full prescribing and risk information, please call 1-800-348-2759, press 4 for 411 Technical Support.