Intended for Healthcare Professionals
Wagner SL Revision®  Hip System 
The Wagner SL Revision Hip is designed to bridge proximal bone defect to gain distal fixation and rotational stability.
Procedures
Femoral Reconstruction
Revision Hip
Clinically proven design1  with over 30 years of clinical experience.
Kaplan Meier
96%
Average follow-up of 7 years2
Relative Survival Ratios (RSR)
97.4%
Average follow-up of 6.17 years3 
Average follow-up with loosening as the endpoint [RSR]
100%
Average follow-up of 3.9 years (2 – 7 years)4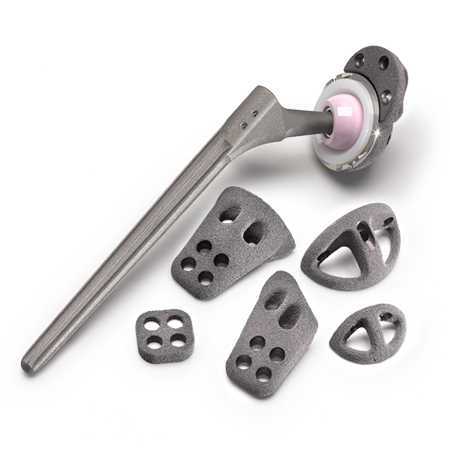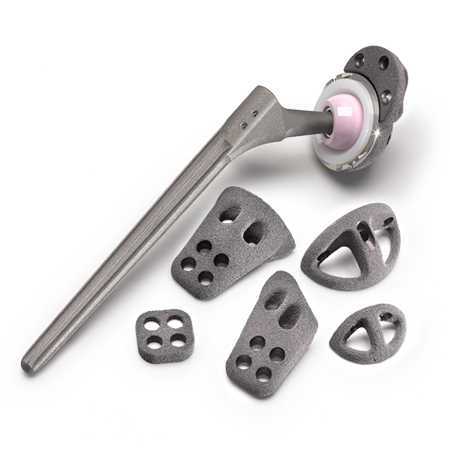 Proven Materials
Proven grit-blasted surface and a biocompatible titanium alloy.
Rotational Stability
A tapered, conical implant body and eight longitudinal ribs provide rotational stability and allow for intraoperative anteversion adjustment. 
Range of Sizes
Varying implant diameters and lengths are available for a desired patient fit.
For restoration of soft tissue tension.
To address both varus and standard femoral neck anatomies.
Allowing for rotational freedom when setting stem version.
Circular profile along the entire length of the stem allows adjustment of version angle and canal preparation with reamers to preserve bone.
A CCD angle of 135° gives an offset of 42 to 46 mm, depending on the stem diameter. Larger offsets are designed to support stability, muscular stabilization and range of motion.
Secure Fixation 
Designed for secure fixation by means of longitudinal ribs and 2o taper. Ream-only technique designed to conserve bone.
Clinically Proven
Clinically proven design1 with over 30 years of clinical experience.
Flexible Solution
Designed to address a range of patient anatomies and deformities
Böhm P, Bischel O. The use of tapered stems for femoral revision surgery. Clin Orthop Rel Res. 2004. 420:148-157.
Born P et al. Eradication of infection, survival, and radiological results of uncemented revision stems in infected total hip arthroplasties. Acta Orhtopaedica 2016; 87 
Marx A et al. Peri-prosthetic femoral fractures treated with the uncemented Wagner revision stem. Hip Int 2012; 22(3):286-291 
Zeng M et al. Cementless femoral revision in patients with a previous cemented prosthesis. International Orthopaedics 2015; 39:1513-1518 
Bobyn JD, Hacking SA, Chan SP, et al. Characterization of new porous tantalum biomaterial for reconstructive orthopaedics. Scientific Exhibition: 66th Annual Meeting of the American Academy of Orthopaedic Surgeons; 1999; Anaheim, CA.
Zimmer, Inc.
1800 West Center Street
Warsaw, Indiana 46580 USA
Tailored resources for your patients.
Find videos, articles, and interactive content to guide your patients throughout their surgical journey on ReadyPatient.com, our dedicated patient recovery site.
All content herein is protected by copyright, trademarks and other intellectual property rights, as applicable, owned by or licensed to Zimmer Biomet or its affiliates unless otherwise indicated, and must not be redistributed, duplicated or disclosed, in whole or in part, without the express written consent of Zimmer Biomet.   
This material is intended for health care professionals. Distribution to any other recipient is prohibited. 
For product information, including indications, contraindications, warnings, precautions, potential adverse effects and patient counseling information, see the package insert or contact your local representative; search this website for additional product information. To obtain a copy of the current Instructions for Use (IFU) for full prescribing and risk information, please call 1-800-348-2759, press 4 for 411 Technical Support.