Intended for Healthcare Professionals
ToggleLoc® Flip Inline with ZipLoop® Technology
Tactile Flipping. Controlled Tensioning.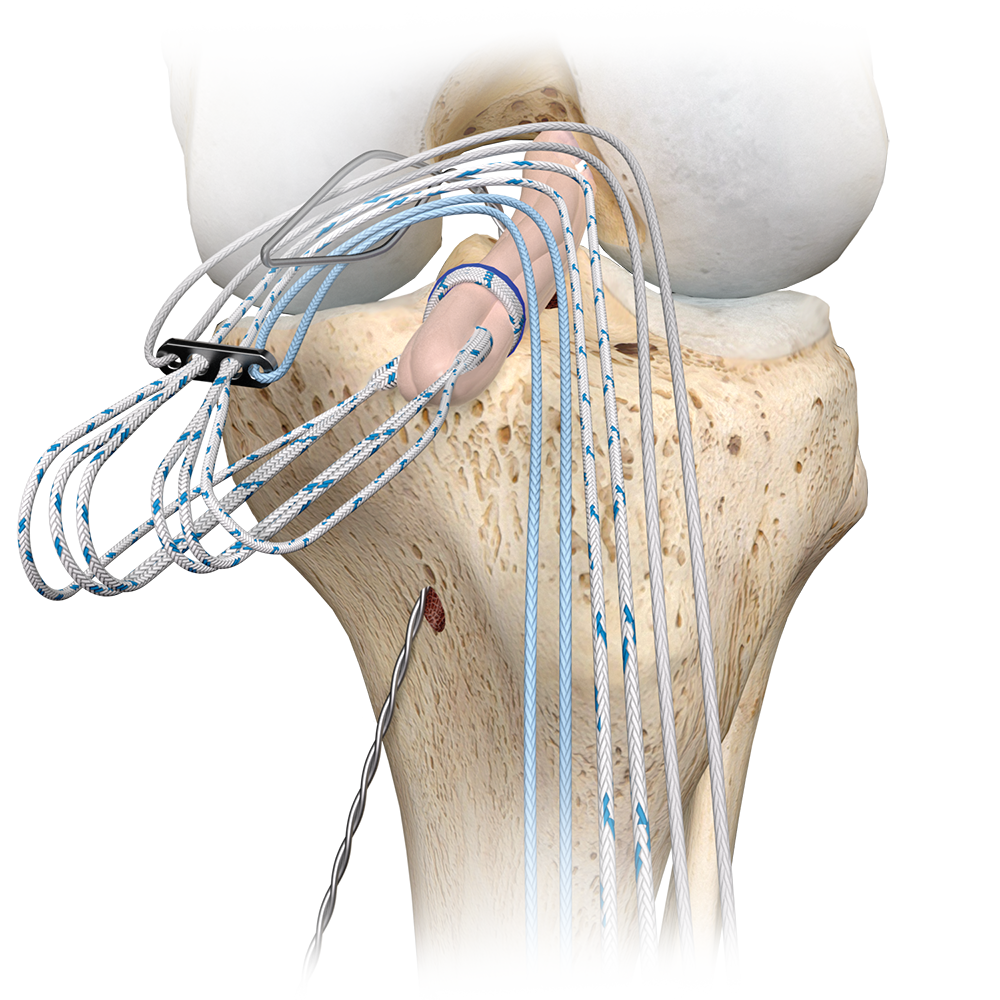 ACL Suspensory Button Fixation System
ToggleLoc® Flip Inline with ZipLoop® Technology features an adjustable button loop that allows for one size fits all surgeon-controlled graft tensioning for ACL reconstruction. The strong titanium suspensory button fixation device is designed with a flipping suture for reproducible button deployment.
Benefits of ToggleLoc Flip Inline for Suspensory Button Fixation During ACL Graft
Self-adjusting loop covers 15 to 60 mm ACL loop repair diameters.
Additional suture holes allow surgeon-controlled suture flipping and tactile deployment of the button.
Designed with a single, long protective card to reduce coiling of the loop and suture. 
Strong titanium suspensory button fixation device with a high suture pullout tensile strength of 900 Newtons1
Distinct 3-point locking ZipLoop design and braid construction allow for easy placement and is designed to help minimize suture creep
Features strong2,3,4, coreless UHMWPE MaxBraid™ Sutures
Saddle design provides smooth control for ACL graft tensioning.
Adjustable loop can tension and close as low as 5 mm to the end of the button, maximizing graft biology in bone.
Plate button style fits flush in extender or washer if ACL socket is fully reamed out. 
Riverpoint Internal Test Report [Product Bench Testing Button Loop, 2022] VP-02N-TR on file.
Swan, G., Kenneth; et al. Arthroscopic Suture Material and Knot Type: An Updated Biomechanical Analysis. The American Journal of Sports Medicine. Vol 37, No. 8, 2009; pgs 1579-1585.
Data on file RMS 71394, 71395. Bench test results are not necessarily indicative of clinical results.
Data on file RMS 71396, 71397. Bench test results are not necessarily indicative of clinical results.
ToggleLoc Flip Inline with ZipLoop Technology is an OrthoButton AL product.
OrthoButton Al is a trademark of Riverpoint Medical.
Riverpoint Medical
825 NE 25th Ave.
Portland, OR 97232
All content herein is protected by copyright, trademarks and other intellectual property rights, as applicable, owned by or licensed to Zimmer Biomet or its affiliates unless otherwise indicated, and must not be redistributed, duplicated or disclosed, in whole or in part, without the express written consent of Zimmer Biomet.   
This material is intended for health care professionals. Distribution to any other recipient is prohibited. 
For product information, including indications, contraindications, warnings, precautions, potential adverse effects and patient counseling information, see the package insert or contact your local representative; search this website for additional product information. To obtain a copy of the current Instructions for Use (IFU) for full prescribing and risk information, please call 1-800-348-2759, press 4 for 411 Technical Support.