Intended for Healthcare Professionals
A.T.S.® 5000
& A.T.S.® 3200
Tourniquet Systems
A Personal Focus.
A Personalized Fit.
Zimmer Biomet's market-leading surgical Tourniquet Portfolio makes personalization a priority. Designed with efficiency in mind, our inclusive catalog of dual and single-port pneumatic tourniquet systems, accessories and tourniquet cuffs provides a comprehensive selection of solutions to help prioritize patient comfort while meeting the unique needs of surgeons and healthcare facilities. 
Products:
A.T.S. 5000 (Dual Port)
A.T.S. 3200 (Single Port)
Sterile and disposable tourniquet cuffs and cuff sleeves
Meet Our Tourniquet Systems
A.T.S. 5000 Tourniquet System
The A.T.S. 5000 Tourniquet System delivers a personalized experience for both patients and healthcare providers.
Combining customizable surgeon profiles with Personalized Pressure® Technology and multiple ways to measure Limb Occlusion Pressure (LOP), our dual port tourniquet system equips surgeons with efficient tools that meet their preferences without disrupting workflow. These features help support the goal of delivering the minimum required tourniquet pressure to help minimize post-operative pain, while maintaining a bloodless surgical field.
A.T.S. 3200 Tourniquet System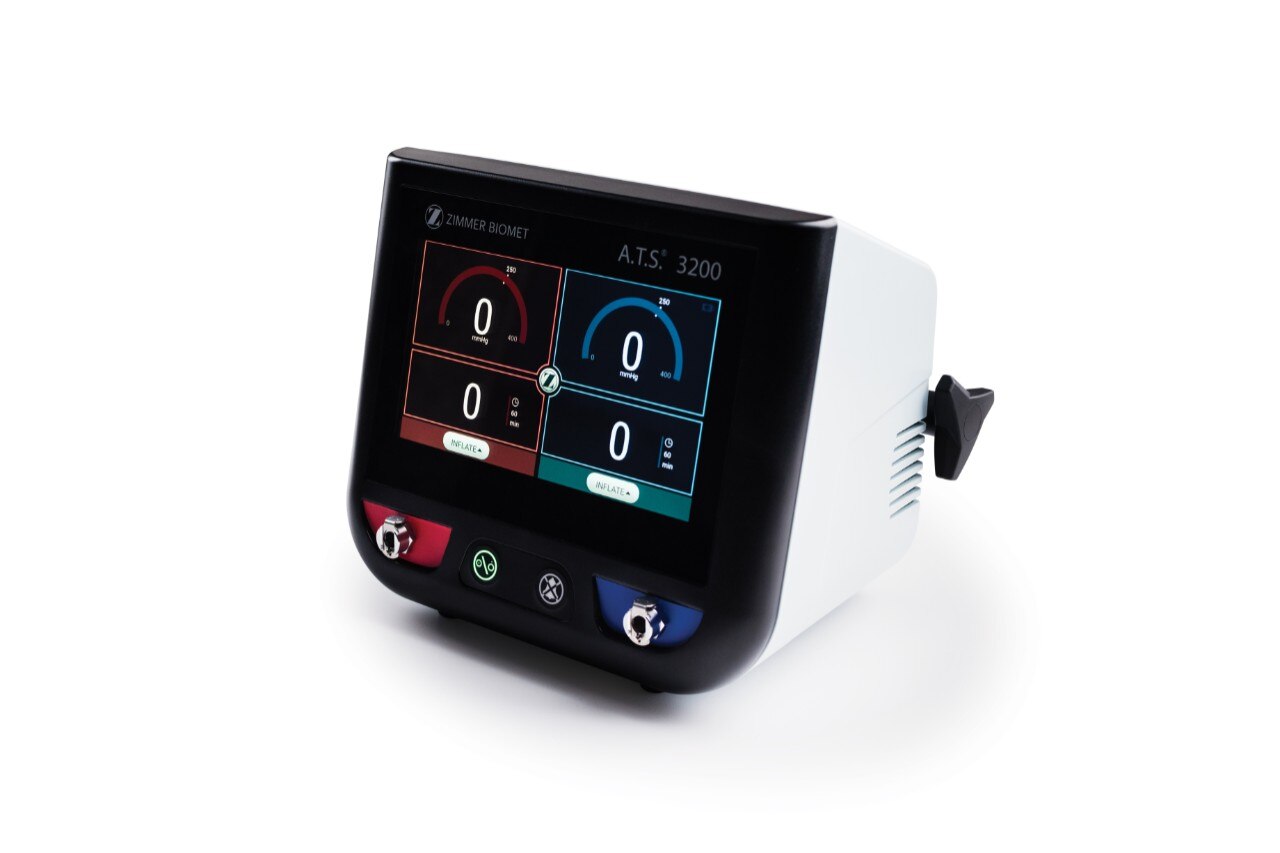 The A.T.S. 3200 Tourniquet System offers a single-port and includes the base features of the A.T.S.® 5000 at an economical price point, while leveraging reliability and efficiency to help surgeons achieve a bloodless surgical field.
With multiple safety features, system tests, reports and flexible operating room setup, the A.T.S. 3200 provides a dependable solution for surgeons, while providing peace of mind to focus on the procedure. 
Features and Benefits of Zimmer Biomet's Automatic Tourniquet Systems 
Pre-Operative Cuff Test
Bedside testing of the cuff is available pre-operatively to ensure proper function.
Cuff Alert
OR staff are alerted if they try to turn off the device and there is still pressure in the cuff. This ensures an inflated cuff is not unintentionally left on the patient.
Line Occlusion Detection (Acoustic Reflectometry)
This technology is intended to decrease the unintentional risk of leaving pressure in a tourniquet cuff.
Automatic IVRA Cuff Lock Out
Without additional steps or notification, the machine will prompt users to confirm the intent to deflate a second cuff. Improper deflations have resulted in serious injuries and death.
Advanced Leak Detection
Monitors the cuff and hoses for minor variations intra-operatively with the intention of reporting potential hose/cuff leaks. 
A.T.S. 5000 System Features
Personalized Pressure Technology can help surgeons choose a more individual, often lower, cuff pressure.1 Applying lower tourniquet pressure has been found to result in less post-operative pain.2*
*The A.T.S. 5000 was not used in this study and has not been clinically evaluated to reduce post-operative pain and/or wound complications.
LOP measurements can be obtained without an additional sensor, meaning the measurement can be performed much closer to cuff inflation time and workflow can be simplified. The integrated barcode scanner automatically recognizes and scans compatible disposable cuffs, displaying all details on the device's touchscreen interface.
With just two touches of the home screen, surgeons can access the Protocols menu and set up their personalized profile. Pressure, time, LOP, safety margins and deflation preferences can be customized beyond the typical default setting.
*The ATS 5000 will take into account anticipated changes in blood pressure during the procedure by adding an additional safety margin to the LOP value at the end of the LOP determination. "Custom" safety margins can be user-selectable in the protocols between 50mmHg and 100mmHg.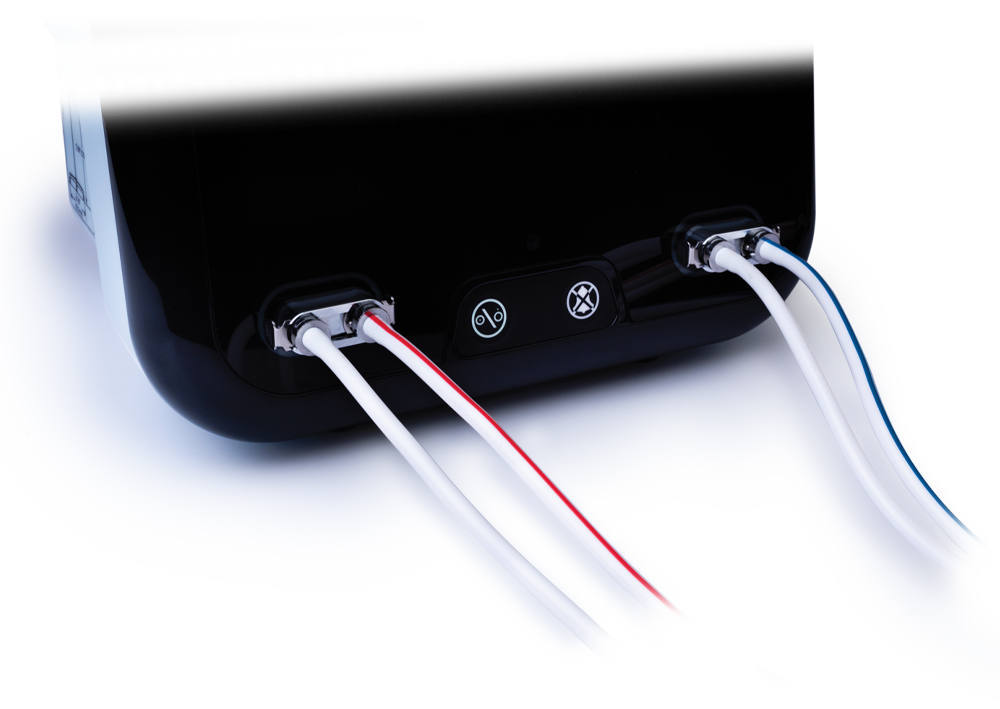 One port is dedicated to inflating and deflating the cuff, while the other is dedicated to monitoring pressure. 
LOP Technology was designed to calculate a patient's pressure at an individual level and apply the minimum amount of tourniquet pressure needed to occlude a limb.
No two patients are the same – that's why our A.T.S. 5000 treats every patient with Personalized Pressure® Technology. Let's discuss the ABCs of LOP.
Absolute Minimum
A
LOP technology was designed to calculate a patient's pressure at an individual level and apply the minimum amount of tourniquet pressure needed to occlude a limb at a specific time for a specific patient.
Bloodless Field
B
Insufficient tourniquet cuff pressures have been reported to impair venous return, while allowing arterial blood flow to continue.3 Tourniquet cuff pressures that are too low could result in bleeding distal to the cuff which can result in undesirable blood in the surgical field and blood loss.
Confidence
C
The A.T.S. 5000 Automatic Tourniquet System offers the healthcare professional an option in setting the tourniquet cuff pressures - always keeping the final setting of pressure in their hands.
A.T.S.® 5000 Automatic Tourniquet System
Olivecrona C, Ponzer S, Hamberg P, Blomfeldt R. Lower Tourniquet Cuff Pressure Reduces Postoperative Wound Complications After Total Knee Arthroplasty. Journal of Bone & Joint Surgery; 94; 2216- 21.
Worland, RL; Arredondo, J; Angles, F; Lopez-Jimenez, F; Jessup, DE: Thigh pain following tourniquet application in simultaneous bilateral total knee replacement arthroplasty. J Arthroplasty. 12(8):848 – 52,1997. 
Massey K.A., Blakeslee C., Martin W, Pitkow H.S., "Pneumatic ankle tourniquets: physiological factors related to minimal arterial occlusion pressure", J Foot Ankle Surg 38:256-263, 306-307, 1999.
Zimmer Surgical, Inc.
200 West Ohio Avenue
Dover, OH 44622
Tailored resources for your patients.
Find videos, articles, and interactive content to guide your patients throughout their surgical journey on ReadyPatient.com, our dedicated patient recovery site.
All content herein is protected by copyright, trademarks and other intellectual property rights, as applicable, owned by or licensed to Zimmer Biomet or its affiliates unless otherwise indicated, and must not be redistributed, duplicated or disclosed, in whole or in part, without the express written consent of Zimmer Biomet.   
This material is intended for health care professionals. Distribution to any other recipient is prohibited. 
For product information, including indications, contraindications, warnings, precautions, potential adverse effects and patient counseling information, see the package insert or contact your local representative; search this website for additional product information. To obtain a copy of the current Instructions for Use (IFU) for full prescribing and risk information, please call 1-800-348-2759, press 4 for 411 Technical Support.