Intended for Healthcare Professionals
TunneLoc® Tibial Fixation Device
The TunneLoc implant is made with PEEK-OPTIMA® polymer which affixes the soft tissue graft in the tibial tunnel with one simple surgical step.
Graft tensioner and inserter shaft eliminate the need for reusable instruments, saving costly preparation time by the hospital or surgery center.
The TunneLoc implant is packaged sterile with the graft tensioner and inserter shaft.
Hands-free tensioner removes creep from the system and maintains tension during implant insertion.
Implant provides aperture and cortical fixation
Cortical stop
Self-aligning tip geometry
Longitudinal ribs evenly distribute graft enabling circumferential healing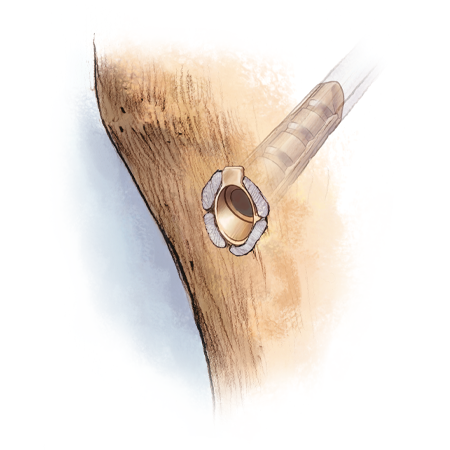 TunneLoc Tibial Fixation Surgical Technique Animation
PEEK-OPTIMA® is a registered trademark of Invibio, LTD.
Biomet Orthopedics
56 East Bell Drive
P.O. Box 587
Warsaw, Indiana 46581 USA
Tailored resources for your patients.
Find videos, articles, and interactive content to guide your patients throughout their surgical journey on ReadyPatient.com, our dedicated patient recovery site.
All content herein is protected by copyright, trademarks and other intellectual property rights, as applicable, owned by or licensed to Zimmer Biomet or its affiliates unless otherwise indicated, and must not be redistributed, duplicated or disclosed, in whole or in part, without the express written consent of Zimmer Biomet.   
This material is intended for health care professionals. Distribution to any other recipient is prohibited. 
For product information, including indications, contraindications, warnings, precautions, potential adverse effects and patient counseling information, see the package insert or contact your local representative; search this website for additional product information. To obtain a copy of the current Instructions for Use (IFU) for full prescribing and risk information, please call 1-800-348-2759, press 4 for 411 Technical Support.