Intended for Healthcare Professionals
SpeedSnare™ Surgical Suture Passer
The SpeedSnare Surgical Suture Passer is the first single step system with right and left curvatures to accommodate both hip and shoulder labrum suture passing techniques.  Designed for the ability to pass and retrieve in one step, the SpeedSnare Suture Passer has "suture locked" and "suture sliding" positions.
MULTIPLE APPLICATIONS WITH MULTIPLE TIP CONFIGURATIONS
Left, right, and up bends to address various hip and shoulder labral pathologies • 30° and 60° up bends allow retrograde rotator cuff suture passing techniques and also addresses subscap applications. • The SpeedSnare Straight device can be used in straight tunnel suture passing, for tendon transfer applications, and to shuttle suture through grafts in superior capsular reconstruction cases.
SUTURE LOCKED AND SUTURE SLIDING POSITIONS
Pass and retrieve suture or suture tape in one step with one portal, eliminating the need for additional suture management tools. 
Device locks suture or allows suture to freely slide during passing, depending on desired technique.
SPEEDSNARE AND SPEEDSNARE REVERSE

SpeedSnare Suture Passing Devices are designed with the sharp tip of the shaft on the inside of the curve. The orientation of the sharp tip and the suture grasper facilitates optimal suture grasping. 
SpeedSnare Reverse Suture Passing Devices are designed with the sharp tip of the shaft on the outside of the curve to facilitate tissue penetration.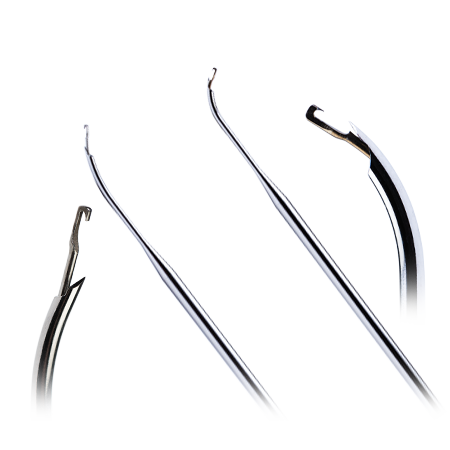 Clinical Graphics Hip Preservation Pre-Operative Planning
T.A.G. MEDICAL PRODUCTS CORPORATION LTD.
Kibbutz Gaaton 2513000 Israel 
Tailored resources for your patients.
Find videos, articles, and interactive content to guide your patients throughout their surgical journey on ReadyPatient.com, our dedicated patient recovery site.
All content herein is protected by copyright, trademarks and other intellectual property rights, as applicable, owned by or licensed to Zimmer Biomet or its affiliates unless otherwise indicated, and must not be redistributed, duplicated or disclosed, in whole or in part, without the express written consent of Zimmer Biomet.   
This material is intended for health care professionals. Distribution to any other recipient is prohibited. 
For product information, including indications, contraindications, warnings, precautions, potential adverse effects and patient counseling information, see the package insert or contact your local representative; search this website for additional product information. To obtain a copy of the current Instructions for Use (IFU) for full prescribing and risk information, please call 1-800-348-2759, press 4 for 411 Technical Support.