Intended for Healthcare Professionals
JuggerKnot® Soft Anchor System
Clinical Results, Versatile, and Strong
The introduction of the 1.4 mm JuggerKnot All-Suture Anchor in 2009 revolutionized soft tissue fixation in Sports Medicine. This award winning* 100% suture based anchor system has quickly evolved into a family of anchors that offers one of the widest range of options for a multitude of different procedures.
Clinical Results
One study of 18 patients, performed with the 1.4 mm anchor, demonstrated clinically improved patient outcomes and fibrous tissue complete bony healing or combined fibro-osseous healing in the anchor tunnel1
Versatile
Gain access to this robust soft anchor system, which includes seven different size offerings and size specific instrumentation.
Strong
Strength is equal to or greater than some anchors two or three times larger2 and*** high pullout strength ranging from 20-120 lbs., depending on size of anchor3,4
JuggerKnot Long Soft Anchor
Most commonly utilized for soft tissue to bone fixation in the hip

Designed with a #6 polyester sleeve, loaded with either a #1 (white/blue) or #2 (blue) MaxBraid™ suture, and a 1.45mm anchor

Inserter is 2.3 inches longer than the original 1.4mm anchor to provide sufficient amount of reach in all areas of the hip labrum

49 lbs. anchor pullout strength with #1 and 70 lbs. anchor pullout strength with #2 suture4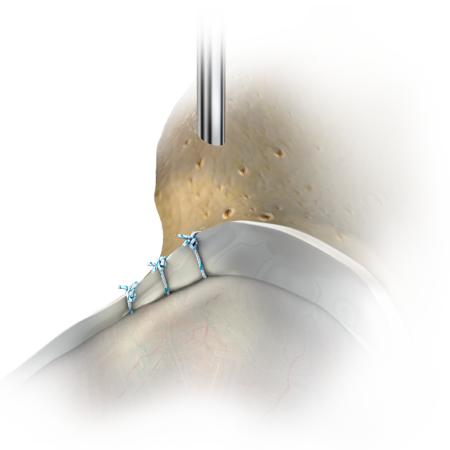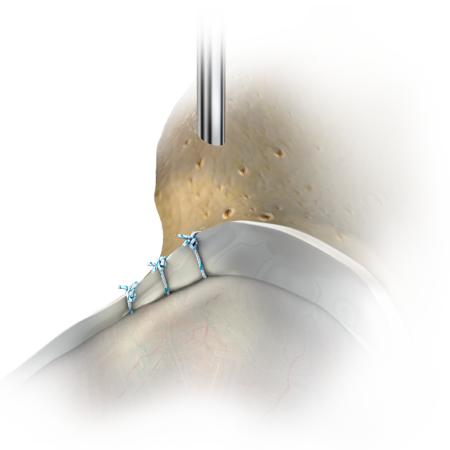 JuggerKnot Long Soft Anchor for Hip Acetabular Labral Repair Video
JuggerKnot Soft Anchor 1.45 mm Long Hip Labral Repair Video
Clinical Graphics Hip Preservation Pre-Operative Planning Video
Agrawal, V, MD; Pietrzak, WS, Ph.D. Triple labrum tears repaired with JuggerKnot™ soft anchor: Technique and results. Int J of Shoulder Surg 2015;9:81-9.
Barber FA, MD, Herbert MA, Ph.D. "Cyclic Loading Biomechanical Analysis of the Pullout Strengths of Rotator Cuff and Glenoid Anchors: 2013 Update." Arthroscopy, 29(5), p832-844, April 2013
Barber FA, MD, Herbert MA, Ph.D, Hapa O., MD, Rapley JA, MD, Barber CA, Bynum JA, MD, Hrnack SC, MD. "Biomechanical Analysis of Pullout Strengths of Rotator Cuff and Glenoid Anchors: 2011 Update." Arthroscopy, 27(7), p895-905, July 2011
Data on file at Biomet Sports Medicine. Test Reports, AT47B, AT47D, BSM4, BSM03. Bench test results are not necessarily indicative of clinical results.
*Medical Design Excellence Awards®, 2011 Winner
Biomet Orthopedics
56 East Bell Drive
P.O. Box 587
Warsaw, Indiana 46581 USA
Tailored resources for your patients.
Find videos, articles, and interactive content to guide your patients throughout their surgical journey on ReadyPatient.com, our dedicated patient recovery site.
All content herein is protected by copyright, trademarks and other intellectual property rights, as applicable, owned by or licensed to Zimmer Biomet or its affiliates unless otherwise indicated, and must not be redistributed, duplicated or disclosed, in whole or in part, without the express written consent of Zimmer Biomet.   
This material is intended for health care professionals. Distribution to any other recipient is prohibited. 
For product information, including indications, contraindications, warnings, precautions, potential adverse effects and patient counseling information, see the package insert or contact your local representative; search this website for additional product information. To obtain a copy of the current Instructions for Use (IFU) for full prescribing and risk information, please call 1-800-348-2759, press 4 for 411 Technical Support.